There are approximately 125 authorized patterns for USAF campaign streamers. The Air Force follows established practice as described for Army streamers, with some specific award streamers authorized for its exclusive use
Click HERE for AFI 34-1201. This is a PDF file, delineating the Air Force Protocol Program. Streamers are discussed, starting on page 37. NOTE: This publication lists size 1 and 2 streamers as 2 inches in width (probably a typo); however, the actual width is 2 3/4 inches, as specified on the production code sheets issued to manufacturers. FOR AN ACCURATE LISTING OF AIR FORCE STREAMERS AND THEIR SPECIFICATIONS SEE MIL-DTL-14650/4L. THIS DOCUMENT MAY BE ACCESSED ON THE ASSIST WEB SITE - CLICK HERE.
NOTE: The following are COLOR SWATCHES and NOT blouse ribbons. In the case of non-symmetrical orientation, the right hand side of the swatch (the viewer's right) is the TOP of the streamer. For example:
(bottom)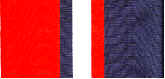 (top)

U.S. AIR FORCE WAR SERVICE AND CAMPAIGN STREAMERS.
The numbers represent the "Style" - usually the discrete inscription for each streamer design. In some categories the first style number represents a War Service (blank) streamer; i.e., no embroidered designation

1 Mexican Service

2 - 16 WWI

17 - 18 WWII, AT

19 - 42 WWII, APT

43 - 61 WWII, EAMET

62 HUMANE ACTION (BERLIN AIRLIFT)

63 - 73 KOREAN SER.

74 - 91 VIETNAM SER.

92 - 112 ARMED FORCES EXP.

113 - 116 S.W. ASIA SER.

117 KOSOVO CAMPAIGN

118 - 119 AFGHANISTAN CAMPAIGN

120 GWOT EXPEDITIONARY

121 - 125 IRAQ CAMPAIGN

U.S. AIR FORCE UNIT AWARD & FOREIGN STREAMERS (partial list)


AFOUA

PRES. UNIT CITATION

PHILIPPINE PUC

REPUBLIC OF KOREA PU

VALOROUS UNIT COM.

REP. OF VIETNAM GALLANTRY

AFOEA

REP. OF VIETNAM CIVIL ACT.


JMUA


USAF CAMPAIGN MEDAL

AF GALLANT UNIT AWARD

AF MERITORIOUS UNIT
NOTES:

1 - Type I, Class 4, Size 1 are 2 3/4 x 48 inches - streamers for ceremonial flags

2 - Type II, Class 4, Size 2 are 2 3/4 x 36 inches - streamers for organizational flags

3 - Type II, Class 4, Size 3 are 1 3/8 x 24 - streamers for guidons*

*Guidon streamers may be 1 3/8 x 24 or 1 3/8 x 36

91 - 112 ARMED FORCES EXP. - These streamers are for display only on the Air Force ceremonial flag and are not authorized for organizational flags and guidons