RICHARD R. GIDEON FLAGS
PROFESSIONAL VEXILLOGRAPHY
FAMILY FLAGS
BUSINESS FLAGS
ORGANIZATION FLAGS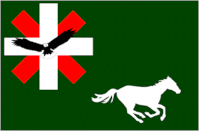 © Richard R. Gideon
SPECIAL: "SENSATION AND PERCEPTION - how color influences flag design" by Richard R. Gideon,
from the March, 2004 issue of American Vexillum™ Magazine
Vexillography is a compound Latin and Greek based word meaning "the design of flags."
RRGF has designed a number of flags for businesses, organizations, nonprofit groups, and individuals. Why hire a professional designer when you could "do it yourself?" RRGF has the experience and expertise that allows us to produce quality designs that may be seen from a distance.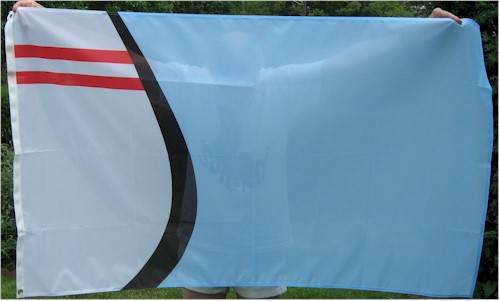 the Lockheed "Constellation" Tribute Flag - ©Richard R.Gideon
- EVERY FLAG SENDS A SIGNAL -
SPECIAL: SENDING A SIGNAL or "FLAGS 101" by Richard R. Gideon,
from the April, 2006 issue of American Vexillum™ Magazine

©Richard R. Gideon
Flags "designed by committees" rarely perform well. What may look good on a piece of paper only inches away from one's eyes may not be clearly seen from a distance. Businesses often make the mistake of putting many words on a flag, extolling the virtues of their enterprises. Although well intentioned, imagine trying to read text on a flag fluttering in the breeze, 20 feet above the ground. Colors that do not contrast should be avoided. Simple designs and contrasting colors that convey meaning work best.

©Richard R. Gideon
If words MUST be placed on a flag then they should be arranged to draw the eye toward a symbol. Although we recommend avoiding words, sometimes the customer insists. The flag may be a display item, hung at eyelevel, and therefore some script may be acceptable. The best use of script occurs when the letters or symbols are symmetrical

Note: Here is what a 3' x 5' flag looks like as it flies from atop a 25' pole, at a distance of 100' Can you read the words?


©Richard R. Gideon
Overall shape and size must be taken into consideration. Although it may seem counterintuitive, square flags fly better than horizontally rectangular flags, and big flags fly better than small ones of similar proportion. One must also consider materials and the weather conditions the flag will encounter. The sun is the biggest single factor affecting flag life. All materials, synthetic or natural, have certain virtues and vices.

family flag
There is a big difference between design and fabrication. Many people call or write me concerning making a flag (fabrication) that they have already designed. RRGF can assess your design and recommend the most appropriate construction method. For flags with complicated designs we recommend silk-screening or digital printing; both of which we can now provide through our associates.

family flag
©Richard R. Gideon
In the end, a flag's purpose is to convey meaning over a distance. All flags are signaling devices. If one needs to be close to a flag to see its symbolism then consider a poster instead. Flags have a special, historic role in the family of man. They can inspire, warn, enlighten - and for businesses or organizations portray an identity. A "flag on the cheap" is wasted money. After all, what is your good name worth to you?
For more information contact us: click on our CONTACT INFORMATION link


family flag
©Richard R. Gideon