Since 1994 RRGF has been a leader in the field of professional "vexillology" - the study of flags and flag history.
PRODUCTS - SERVICES - PEDIGREE
SUPPLIER OF DOD/AAFES APPROVED MILITARY BATTLE, CAMPAIGN, WAR SERVICE AND GUIDON STREAMERS

OUTLET FOR CUSTOM STREAMERS THAT MEET ALL DOD REGULATIONS FOR MATERIALS AND WORKMANSHIP

US FLAGS UP TO 30' x 60'

INFORMATION and DESIGN

DEPARTMENT OF DEFENSE LICENSED TO MAKE AND SELL THE NATIONAL SERVICE FLAG AND SERVICE LAPEL BUTTON

FLAG PROGRAMS for schools and organizations

Richard R. Gideon is a internationally known vexillologist and historian whose work has been cited in various print and electronic publications, and in Ph.D. level dissertations

RRGF is registered with DUNN & BRADSTREET, and with the U.S. Government's SAM/CCR

RRGF is VETERAN OWNED and OPERATED. We support our men and women in uniform
RESUME
While we currently specialize in supplying campaign and award streamers to military units, RRGF has supplied flags to museums, reenactors, colleges and universities, actors, companies, historians, authors, private individuals, and several States. The RRGF resume reads, in part, as follows:
Supplied flags to the Maine State Museum

Supplied flags to the National Civil War Museum, Harrisburg, Pennsylvania

Supplied flags to the Mississippi State Museum

Supplied flags to the Museum of the Confederacy, Richmond, Virginia

Supplied flags to the Carlyle House, Alexandria, Virginia

In 1996 we supplied a special flag that flew over the State Capital in Nashville, Tennessee, for the Tennessee Bicentennial

Our clients also include:

United States Customs Service

Federal Aviation Administration

USO of Illinois

United States Army

United States Navy

United States Marine Corps.

United States Air Force

United States Coast Guard

Various Police and Fire Departments

Veterans and Service Organizations

State of California

State of Connecticut

State of Mississippi

State of Pennsylvania

State of New Mexico

State of Florida

State of Maine
RRGF has provided Service Flags and Buttons to many military families, and was honored to receive a US flag carried by an Air Force Tanker on a mission over Afghanistan during the early phase of the War on Terror.

In 2003, Richard R. Gideon was a presenter at the 5th Annual Flag Symposium, held at the National Civil War Museum in Harrisburg, Pennsylvania.

In 2004, Richard R. Gideon contributed a Whiskey Rebellion Facsimile to the Alexander Hamilton Exhibition at the New-York Historical Society

In 2005, Richard R. Gideon was a presented the paper "THE FLAG AS ART - SELECTED EXAMPLES 1788 to 2005" at the Star Spangled Banner Flag House Flag Symposium

Richard R. Gideon is editor and publisher of AMERICAN VEXILLUM™ Magazine, has written over 40 articles and papers on flags and American history, and is the author of NAVA's "Illustrated Dictionary of Vexillology."

Richard R. Gideon has reviewed for publication "FLAG: AN AMERICAN BIOGRAPHY" by Marc Leepson; "THE WHISKEY REBELLION - George Washington, Alexander Hamilton, and the Frontier Rebels who challenged America's newfound sovereignty" by William Hogeland; "BETSY ROSS'S FIVE POINTED STAR" by John Balderston Harker

Richard R. Gideon was a consutant and supplier of streamers to the George H. W. Bush Presidential Library in College Station, Texas, and to the US ARMY RESERVE COMMAND MUSEUM at Ft. Bragg, North Carolina

Richard R. Gideon has been awarded two CERTIFICATES OF APPRECIATION for outstanding service from the UNITED STATES ARMY

Richard R. Gideon is a member of the FLAG INSTITUTE (U.K.)
RRGF has one guarantee; ON PRODUCTS MADE BY RRGF AND SOLD TO INDIVIDUALS (OR MILITARY STREAMERS SOLD TO MILITARY UNITS PER CONTRACT/GPC) you must be entirely satisfied with the results or I'll refund your money. If, within 30 days of receiving your flag, you decide to send it back, I'll refund 100% of the purchase price, including tax if purchased in Pennsylvania and/or taxable. RRGF does NOT guarantee 1) how long a flag will last, 2) the fabric, 3) fabric dyes, or 4) assume any liability for what the customer does with the flag once it leaves our hands. On flags made FOR RRGF by subcontractors, ALL SALES ARE FINAL.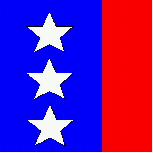 RRGF reserves all rights world-wide. The words Richard R. Gideon Flags,"Gallantly Waving" and the RRGF flag are marks of trade belonging to me.
CONTACT INFO: CLICK HERE



Saturday, 09-Dec-2023